OpenMP dispatch from OpenCL¶
An OpenCL program consists of a host program that executes on the host, and kernels that execute on OpenCL devices. A TI extension allows an OpenCL kernel to act as a wrapper that invokes C functions containing OpenMP regions. These three components - the host program, the OpenCL kernel, and the OpenMP region - form the main parts of an OpenCL program capable of dispatching OpenMP regions.
The figure below provides an overview of how OpenMP regions are dispatched using OpenCL APIs. The host program is executed on SMP Linux running on the ARM Cortex-A15, while the OpenCL kernel and OpenMP region is executed on a OpenCL device consisting of the DSPs. The OpenCL kernel invokes the OpenMP main thread on DSP Core 0. When an OpenMP region is encountered while executing the main thread, DSP Core 0 along with the other DSPs work together to execute the OpenMP region.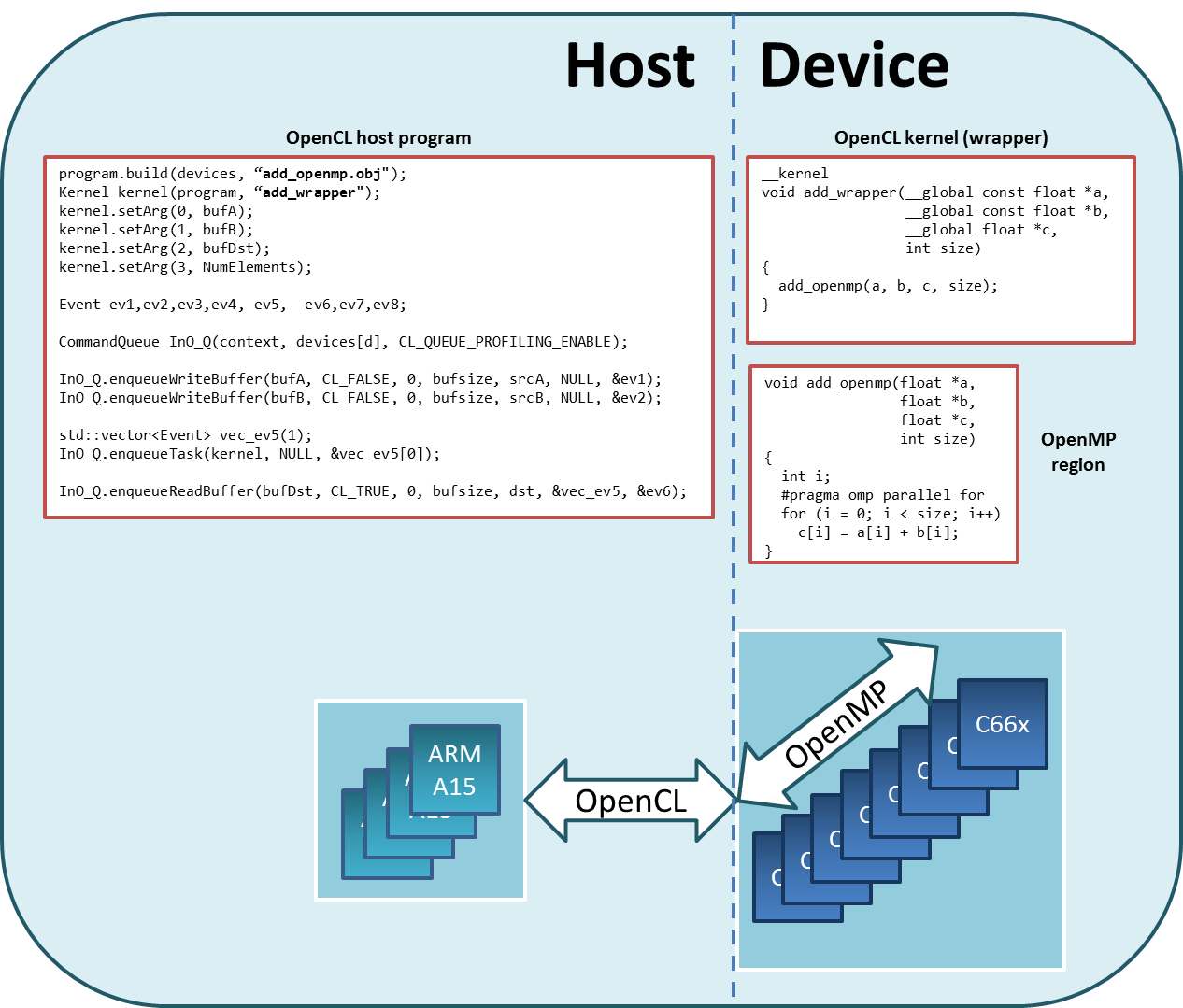 Structure of an OpenCL + OpenMP Application¶
This section uses the vecadd_openmp example in the OpenCL package to describe the structure of an OpenCL + OpenMP application.
Guidelines for writing OpenCL + OpenMP applications¶
Using OpenCL kernels to dispatch OpenMP regions is a TI-specific extension to OpenCL. The following are guidelines for writing applications in this mode.
The C6000 compiler currently supports the OpenMP 3.0 specification for C. OpenMP directives in C++ are not supported. See the OpenMP website for the complete C language specification for the OpenMP Application Program Interface Version 3.0.
OpenMP threadprivate variables are not supported.
Only one level of parallelism is available in the OpenMP DSP runtime. Therefore, nested parallel regions will be executed by teams comprising only one thread.
OpenMP environment variables are not supported and have no effect on the OpenMP runtime behavior.
OpenMP timing routines (omp_get_wtime, omp_get_wtick) assume that the DSP cores are running at 1 GHz.
The configuration of the OpenMP runtime in OpenCL reserves 10KB of memory for each core's stack. Since stack sizes are small, avoid placing large arrays/structs on the stack. Also, keep the call stack short to avoid stack overruns.
The current configuration of the OpenMP runtime reserves 8MB of memory for the shared heap. Since this heap size is quite small, avoid dynamic memory allocation (using mallocs). Alternatively, create OpenCL buffers on the host & pass them as arguments to kernels.
By default, global variables are placed in DDR.